College is the first step of turning into an adult -- academics, independence, responsibilities, stress, anxiety, friendship, laughter, and the list just goes on.
It is the first step for what your life will turn into for the next few years, and let's just say, it can get very stressful.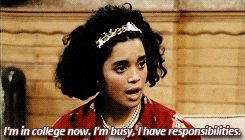 Original: SourceThere are times you can get overwhelmed, with the pressure to excel and the amount of work piled on you in the form of projects, essays, assignments, and exams.
Just as studying is crucial in college, it is equally important to let loose and spend some time relaxing. This helps you re-energize your brain and come back to your college work, fresh and prepared, and the best way to do that is to find a great movie to watch.
We've put together a list of the nine best movies to watch in college.
Grab your Popcorn: The Best Movies to Watch in College
You could pick out classics, inspirational and informational movies, or storylines that provide educational values and are classified to be the best movies to watch in college.
Here's a list we've curated. So grab the popcorn, and get started.
The Perks of Being a Wallflower
Original: SourceThe Perks of Being a Wallflower may be set in high school, but there is a lot to learn from this movie. This masterpiece was based on a book by the same name, written by Stephen Chbosky.
The Perks of Being a Wallflower is not just any other story about a shy high school student learning to cope with the struggles of high school drama and sticking up for himself in the end.
This movie is about 15-year old Charlie (Logan Lerman), who is trying to fit in very hard in school after losing his best friend to suicide and coming out of a very serious mental breakdown. He then becomes friends with a clique of misfits who change his life for the better.
The story is simple and beautiful, yet complex and sad. It has its great funny moments and deals with mature and important topics like, mental illness, sexual abuse, homosexuality, friendship, first love, and has a music score that is mesmerizing and perfect for the scene.
Dead Poets Society
Original: SourceBased on a book by Nancy H. Kleinbaum, Dead Poets Society is dedicated to the life of a progressive English teacher, John Keating (Robin Williams) who encourages his students to step away from the norms, rebel against the status quo, and live their lives unapologetically & without any stress.
The theme of the plot is carpe diem which means 'seize the day', and Robin William's character inspires his students to be their best every day and strive to find their voices through his teaching of poetry. He teaches them to be open-minded and to see everything from different perspectives.
This beautiful tear-jerker is a must-watch for college students and everyone else. It comments on society, youth, friendship, sexism, and education.
The Social Network
Original: SourceThe story of Mark Zuckerberg and the establishment of Facebook was a lot more intricate and complex than most people thought it would be, and this movie takes the cake on that!
The Social Network is about Mark Zuckerberg (Jesse Eisenberg), a Harvard student and a computer genius who becomes a self-made billionaire by creating a global social networking site called Facebook.
It took only 6 years for Mark to become the name he is today, and for Facebook to reach people all over the world who use it every day. Nevertheless, when Facebook was just an idea, Mark's life was filled with terrible amounts of legal and personal issues.
This movie teaches you that reaching the top will come with a lot of casualties, but if you keep the end result in mind, your dreams can turn into reality. It teaches you creativity, building a business, leadership, how important and impactful friends and relationships are, issues that college students face daily, Ivy League college cultures.
Legally Blonde
Original: SourceLegally Blonde starring Reese Witherspoon is the ultimate college prep and feel-good movie.
Elle Woods (Reese Witherspoon) enters the university halls of Stanford Law School wearing a bright pink attire with a little chihuahua in her bag. She is obsessed with fashion and beauty and is in a constant struggle with her professors and peers.
Every day Elle is ridiculed and judged because of her appearance and bubbly and super girly personality that people forget about how intellectual and witty she is. She triumphs over the 'blonde' stereotype and graduates to become a successful, unflappable, confident lawyer.
This movie challenges stereotypes, sexism, sexual abuse and becomes an inspiration for women everywhere, to work toward making their dreams come true and pave the way to help women around the world who are in an everyday battle trying to be equal in a man's world.
The Blind Side
This beautifully inspirational movie is a true story and a rollercoaster of emotions. The Blind Side is about Michael Oher (Quinton Aaron) who gets adopted into a family of 4, after being in foster care his entire life.
His adoptive mother, Leigh Anne Tuohy (Sandra Bullock), enrolls him in the same school like her other two children and helps Michael academically, and develops his interest in playing football for his potential college team.
Michael Oher was drafted to the Baltimore Ravens and eventually joined the National Football League (NFL) as an offensive tackle. His story was an inspiration to many.
Monsters University
A Pixar movie was needed to be added to this list, as animation has come a long long way in affecting and influencing people of all ages. Monsters University is the best animated movie to portray life and education in college -- and it gets all the smallest things right.
Monsters University explores student diversity and the limit of hard work as well as Greek hierarchies in college, glee clubs, high stakes tests and exams, professors, randomly assigned roommates, and lifelong friends.
This movie also makes constant observations on the fact that you will learn more from experiences in the outside world than inside a classroom, and that the quality of your peers will influence and affect your life a lot more than your instructors.
A coming of age movie, Monsters' University has a long list of life lessons that are deemed to be very important and inspiring to students of all ages.
Pitch Perfect
Pitch Perfect follows a college acapella group that is accepting new members in their team and preparing for their next competitive acapella season. But don't think of it as a typical chick-flick.
The message of the movie isn't only about winning acapella competitions, it is about facing challenges, transitioning into the college culture, deep sisterhood with women from different cliques, failure, finding oneself, the ins and outs of college campus life, the experience of being in college societies, and team spirit.
The music makes the movie -- you can't hold back from singing along to every song!
Black Swan
Black Swan starring Natalie Portman and Mila Kunis is a psychological thriller that is based on the life of a ballerina who is so in love with her role that she unexpectedly gets as the Black Swan and is so passionate about her performance that she loses her grip on reality and plummets into a transcending nightmare.
This movie shows us how 'artist perfection' can be detrimental to a person's individuality and how it can affect the life of a performer. It showcases how a performer works so hard to achieve perfection in their roles and doesn't stop pushing themselves even if it affects their physical and mental health.
Natalie Portman won an Oscar for Best Actress in 2011 for her portrayal of Nina Sayers in Black Swan.
Pursuit of Happyness
This movie stars Will Smith along with his son Jaden Smith and is a biopic based on the life of an entrepreneur, Chris Gardner.
The movie revolves around Chris (Will Smith) who starts as a homeless salesman -- fails, and fails again till he reaches rock bottom -- and works up his way through hard work, determination, and willpower to become a powerful brokerage homeowner.
Pursuit of Happyness also includes a moving storyline about the struggles and the patience it takes to take care of his little son (Jaden Smith), with no money and no job to fall back on.
A very heart-rendering and inspiring movie, Pursuit of Happyness talks about failure and how if you have the courage and persistence to follow through to your dreams, goals, and success, even the most impossible situations cannot stop you from reaching where you want to be.
Conclusion
Don't miss out on these movies as they are for sure to leave you motivated, inspired, and prepared for college life.
Our list of the nine best movies to watch in college are all top of their genre and you wouldn't be disappointed. So take a break from studying, give these a watch, and have a great time!