Essay writing is at the heart of every student's academic life. Although the nature of higher learning has changed, majorly because of technology adoption, writing has remained constant over the years. It's one of the few things that, once mastered, can guarantee academic success.
Writing and reasoning are some of the essential skills for students. However, most students cite essay writing as a major challenge in their academic life.
While essay writing may seem intimidating, it can be fairly easy if approached strategically. Due to this, we have put together a comprehensive essay checklist that guides students through the writing process.
The All-Inclusive Essay Checklist to Ace Academic Writing
This checklist is designed to help you organize your academic work and ensure it is completed professionally and structured correctly. It consists of eight sections that cover almost every aspect of essay writing.
Use it as a guideline to make improvements to your essays and ensure they're well-developed. Psst..to make life easier, we've also shared an essay checklist template at the end of this article. So, all you have to do is save it and refer to it while writing your next essay.
1. Select a topic
The first step when writing an academic essay is finding a suitable topic for your essay. In some cases, the instructor might provide a specific topic or ask you to find a topic of your choice based on a particular theme. Whichever way, the content of the essay will depend on the type of academic essay you're creating. The common types of academic essays are descriptive, argumentative, narrative, persuasive, and expository essays. That being said, the assessment details or marking criteria provided by your instructor should always serve as your starting point.
Far too many students write academic essays that are not relevant to the question provided by the instructor. This is why it is important to pay attention to the essay question and any guidelines in the assessment details.
2. Conduct comprehensive research
Once you determine your essay topic, it's time to conduct your research.
Finding information from reputable sources will help you strengthen your arguments and present detailed and accurate points. This is what earns you top marks.
When researching, the top sources of information should be lecture slides, assigned readings, and other resources provided by the instructor. Other than these, use academic journals, organizational websites, governmental websites, newspapers, and other trustworthy sources that provide credible statistics.
A good approach would be using Google Scholar to find more academic articles with information relevant to your essay topic. During the process, take quick notes that will help strengthen your essay.
As you research, it is vital to gather your sources by writing them down or saving all bibliographic information. This will make your work easier when citing the sources within your body and including them at the end of your essay.
3. Work on an outline
Yes, it's super necessary.
Creating an outline might seem like additional work, but it isn't. This is an essential step that helps you organize your research and arrange it under the respective sections while ensuring your points follow in a logical manner and you don't miss out on anything.
Every essay, regardless of the length or word count, must have three sections - the introduction, body, and conclusion. So, while creating an outline, ensure you list the main points under each of these sections so it's easier for you to write the essay.
4. Write the introduction
The introduction paragraph introduces your topic by giving an overview of what is discussed in the paper. It should be around 5% of the total word count.
What's the purpose of an introduction? It's meant to introduce the topic, offer background information and end with a strong thesis statement.
The introductory paragraph is crucial in making a positive first impression. Your introduction needs to reel readers in, generate interest and make them want to read more.
How do you achieve that? By starting the essay with an exciting hook.
An enticing essay hook is one that captures attention.
Hook refers to the first one or two sentences of the essay. The various types of essay hooks you can use include sharing a startling statistic, an anecdote, a famous quote, and a rhetorical question, among many others.
An important element of an introduction is a strong thesis statement. The purpose of this statement is to highlight the main idea of the essay. It needs to be stated clearly while being focused and debatable.
Thesis statement example 1: China's one-child policy was unsuccessful.
Thesis statement example 2: China's one-child policy resulted in massive human rights violations.
Clearly, the latter is more focused and specific, making for an ideal choice for a thesis statement.

5. Write the body

The body is where you present arguments and evidence that support your thesis. Each paragraph in the body should have the following:
topic sentence - it introduces the main point in a paragraph. The topic sentence tells what the student is trying to prove;
supporting sentences - include supporting evidence, valid arguments, and examples;
concluding sentence - also known as a transition sentence, it is used to link one paragraph in the body to the next.
The body paragraph is the largest section of your essay and is likely to take up maximum time. The good thing is if you've worked on an outline, the process gets simpler.
The purpose of this section is to present your arguments and persuade the reader to agree with your point of view by using evidence in the form of statistical, anecdotal, historical, and analogical information.
It's best to present two to three arguments and dedicate a paragraph to each. Make sure your transition from one point to the other is smooth, making for a cohesive reading experience. You need to flesh out every argument while staying within the required word count.
This is the section when your comprehensive research will come into good use.
Here's an interesting video by Brittany Walker on how to write a body paragraph in less than five minutes
6. Write the conclusion
The conclusion paragraph culminates the essay by bringing your ideas together. It should wrap all findings in the body paragraphs in a way that shows you have accomplished the intended purpose.
A common mistake students make while writing conclusions is repeating the thesis statement. That's a waste of space. Instead, you should reinstate it by writing in other words and highlighting the main argument of your essay paper.
It's also a good idea to read everything you've written so far before writing the concluding paragraph. That way, you can identify the most potent argument and write it differently without repetition.
You can end the essay on a high note by offering suggestions for future studies, discussing possible implications, or even asking a rhetorical question.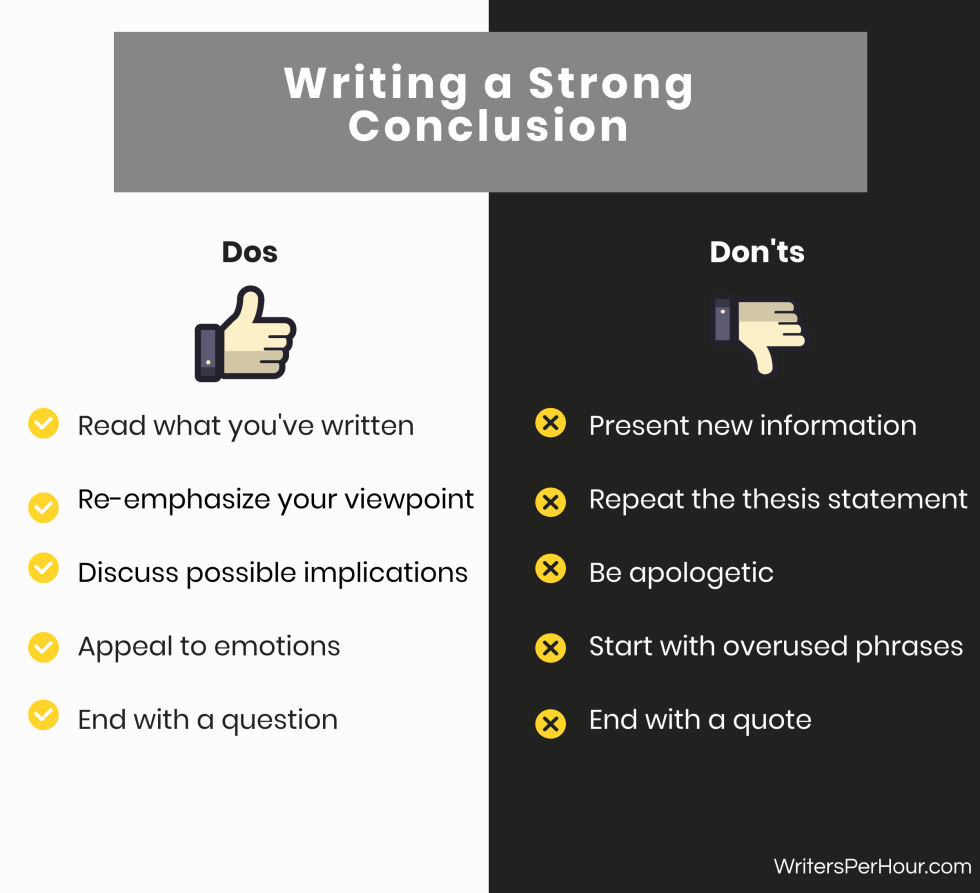 7. Adhere to formatting guidelines
Different academic papers have different formatting requirements, such as MLA, APA, Harvard, and Chicago among others.
Essay formatting is about presenting your essay in a professional manner while putting across your points effectively. It aids readability and impacts your final grades more than you can imagine.

General formatting guidelines you should follow to craft an A+ essay
General layout - an essay paper should be neat and presentable;
Margins - maintain a 1-inch (2.54cm) margin on all sides of the paper;
Spacing - use double line spacing throughout the essay;
Title page - include a title page with your personal details, institutional affiliations, and paper title;
Reference list - every essay should include a list of all sources at the end;
In-text citations - verify that your in-text citations or footnotes and endnotes are properly formatted. Additionally, ensure every in-text quotation corresponds to the correct entry in your reference list;
Appendices - if you include appendices, they should start on a new page right after your reference list.
8. Proofread and edit
After preparing your first draft, you should now revise your work. This involves proofreading and editing your essay to eliminate any grammar and punctuation issues. Most of the common college essay mistakes can alter, obscure, and obstruct the intended meaning in your sentences.
So, when proofreading, ensure your sentences are well-structured, you've used forms and prepositions correctly, and you have not made any spelling errors.
After proofreading your work, it is always a great idea to let a trusted friend proofread it once more. They might point out issues that you didn't notice when proofreading. Finally, before submitting the final paper, remember to check for plagiarism using tools like Turnitin.
Here's the essay checklist template for your essay-writing needs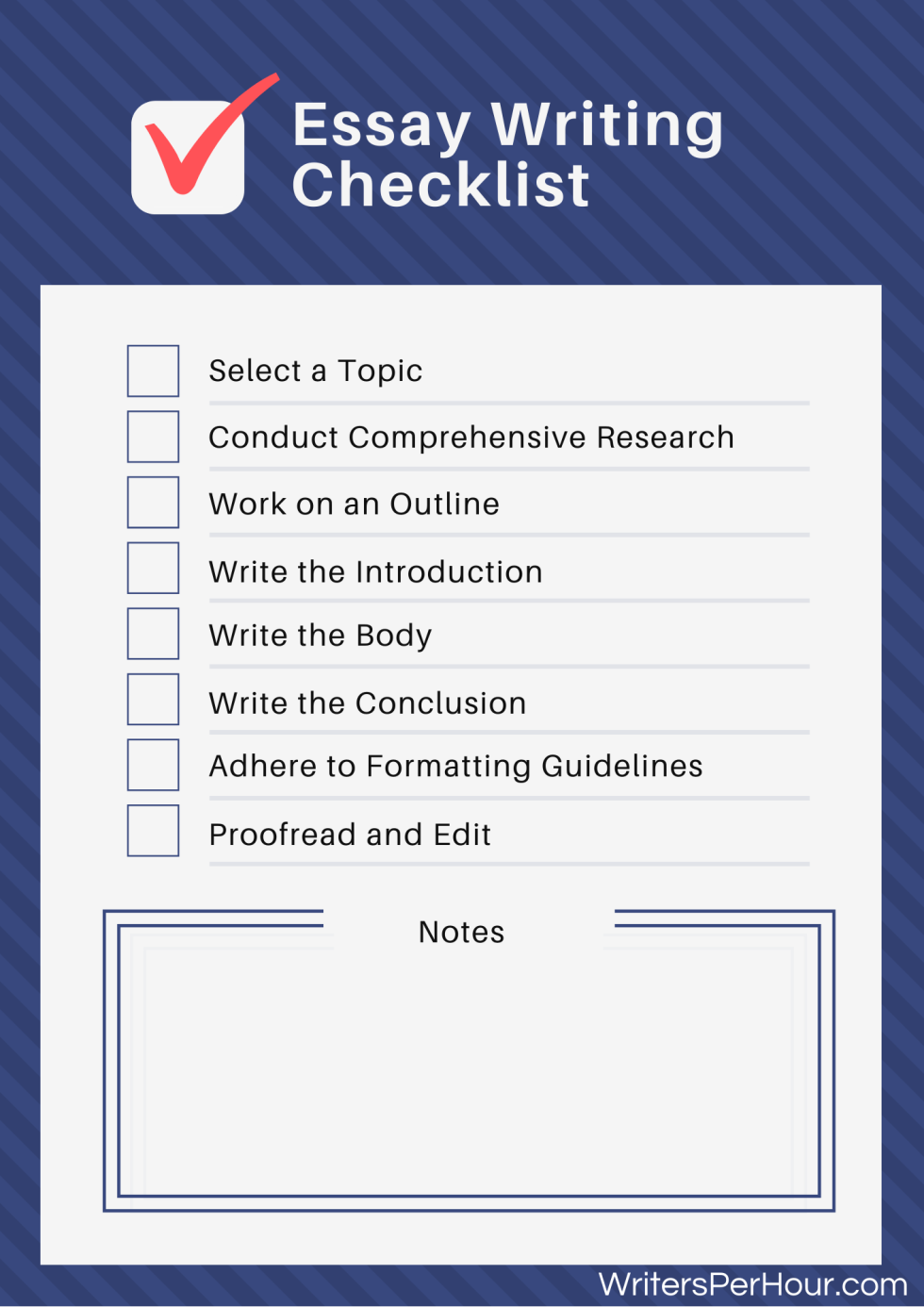 Final Word
Students equipped with the right tools have less trouble preparing and writing their essays. That's why we created this complete essay checklist to make things easier. So, ensure you get your first draft ready before the due date to allow ample time for revising the essay before handing it in.
Using the checklist, eliminate all surface errors while checking for consistency, clarity, and cohesiveness throughout the paper. If your essay checks every box in this checklist, then you can be confident enough that it meets the cut.
Not sure about doing an impressive job? Well, that's what Writers Per Hour is here for. If you're running out of time or are not confident about your writing skills, write to us with your requirements and deadline, and we'll get our expert writers on the job.
With us on board, you can be sure to receive high-quality papers written from scratch and delivered to you right on time.

Last edit at Jul 27 2023