An MA in Egyptology, experts say, is not for the faint of heart. So, here's a pat to the back: Congrats for bravely taking on this journey!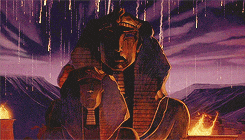 Original: SourceNow, before your MA even begins you can take steps to ensure that you're prepared when you do go back to school. But, how you prepare for your MA will largely depend on what path to becoming an Egyptlogist you're planning to venture into. Will you stay in academia and become a university professor? Or, do you want to work at a museum as a curator for an Egyptian collection? Or, perhaps get down and dirty - literally - and dig up ancient sites as an archaeologist?
1. Study or Brush Up on Your French and German
English-speaking Egyptologists were late to the game; the French and German beat them to it! So, you'll need to learn or review French and German. Working knowledge of these languages will be more valuable to you at this stage than learning about Egyptian hieroglyphs. When you conduct advanced research, most of the published material in the field (i.e., books and articles) are written in these languages.
Apps like Duolingo are a great way to learn new languages. To review and harness your skill, read articles or watch videos in these languages or speak to a native speaker.
2. Visit Museums with Egyptian Collections
Check out your local museum for any Egyptian artifacts and spend time studying them. Or, if you plan to travel during your gap year, try and find out if any of the places you'll be visiting have museums with Egyptian collections. If there are, schedule some time to visit and view their collections. Take photos and make notes which you can go back to and study later. Doing this will expose you to more Egyptian artifacts which will do you well in your MA.
3. Volunteer at Museums or Other Egypt-Related Projects
Aside from being a great addition to your CV, volunteering at a museum will give you an idea of what you might be doing once you become an Egyptologist yourself. Approach your local museum and ask about any volunteer positions.
Another alternative would be to approach some Egyptology faculty. Volunteer your services to those who have active grant projects. If you don't know any personally, try searching online. Egyptology faculty with an interest in digital stuff will be easy enough to locate and contact.
4. Attend Egyptology Lectures and Events
Watch out for any lectures, conferences, or other events related to Egyptology in your place or nearby locations. These could be sponsored by a private organization, an academic institution, or Egyptology societies and organizations, such as The American Research Center in Egypt (ARCE).
Aside from learning more about Egyptology, you'll get to meet faculty and other professionals working in the field. So, in addition to being a learning experience, lectures and other events can also be a networking opportunity for you. As with other fields, networking can also lead to success in Egyptology.
5. Learn About the History of Egyptology
Egyptology has come a long way from its inception with the publication of Description de l'Egypte. But, after more than 200 years of excavation and research, Egypt still hides unexplored sites as well as intentionally left out information, such as the names and works of Egyptian Egyptologists.
While you might know a lot about Egypt, do you know the history of Egyptology? If you don't, you should take some time during your gap year to discover how the study of all things ancient Egypt came to be, especially if you're a Westerner.
Why? Well, because the field is not bereft of colonialism, racism, injustice, and exploitation issues. If you only know about Egyptologists from the U.S. or the U.K. or other Western countries, then it's time to learn about Egyptian Egyptologists who contributed to the field too. Get to know their names and their work because they deserve as much recognition and respect as their Western counterparts.
6. Gain Experience, If You Want to be an Egyptian Archaeologist
It's okay if the archaeological project isn't related to Egypt in any way because you're after gaining field experience. If you're looking into becoming an Egyptian archaeologist, then the best place to learn about it is through some real-life immersion at an actual dig site.
Enrolling in a field school will teach you the theory and train you on the methods behind historical and archaeological excavations. A field school will also train you on how to record and interpret findings and data. Plus, you get to talk with actual archaeologists and ask them what it really takes for them to do their jobs.
Fortunately, the U.S. and its territories have many field schools, ranging from missions and plantations to colonial forts, islands, and preserves. A quick search online using keywords such as "archaeological field school" or "archaeology field school" will bring up up-to-date opportunities. Or, you can take a look at the fieldwork opportunities listed in the Archaeological Institute of America's (AIA) Archaeological Fieldwork Opportunities Bulletin or use the Field School Search page at the American Anthropological Association.
7. Enroll in an Accredited Course
As a graduate student, you will decide on your area of focus and historical period specialty during the first couple of years in grad school. If you haven't decided on these yet, it's a good idea to enroll in an accredited course that piques your interest. If you're really unsure where to start, go with a basic course that offers a broad overview of Egypt's different eras and histories. Then choose the next courses based on what appeals to you.
What's great about an accredited course is that employers will recognize it and you always have the option to move on to more qualifications.
8. Explore and/or Study in Egypt
Going to see an actual Egyptian site during a short trip or vacation is so much better than seeing it in pictures. You can also go to Egypt to study, and there are many scholarships, research fellowships and other funding opportunities to take advantage of. For instance, The American University at Cairo (AUC) offers the Simpson Scholarship for Egyptology which covers tuition and/or AUC housing costs for one semester and may be renewed for a second semester depending on the scholar's academic progress.
9. Join Organizations for Egyptology
There are many benefits to becoming a member of organizations for Egyptology. Not only will you meet and be able to network with like-minded individuals but you'll also receive some exclusive perks.
Members of The American Research Center in Egypt (ARCE), for instance, get free access to the Journal of the American Research Center in Egypt (JARCE) and Scribe magazine, discounts on select publications, free lectures, and activities, and reduced rates on its annual meeting and special events. Plus, discounts on flights from DC to Cairo on Egypt Air, special pricing on accommodations at the Semiramis Intercontinental Hotel in Cairo, and an opportunity to attend a members-only tour of Egypt. ARCE membership starts from $45 for one year for a student.
The Archaeological Institute of America (AIA) also offers a membership that starts from $50 for one year. Depending on your membership, you get discounts on select publications, free copies of the Archaeology Magazine's current issue as well as access to its digital archives, discounts to JPASS and to the AIA-SCS Annual Meeting, access to AIA's Archaeology Abridged Premium talks, and eligibility to serve on AIA Committees. Plus, members also have access to its MemberDeals platform for exclusive discounts on movie tickets, amusement parks, etc., and its Travel Discount program for discounts on hotels, rental cars, etc. Members also receive $100 off their first AIA Tour.
10. Decide Where to Get Your MA, If You Haven't Already
A gap year is the best time to browse the many Egyptology graduate programs on offer in the country and abroad. Each university program will have its own sub-specialty, for instance, the University of Memphis focuses on the art of Egypt, so it's worthwhile to find a graduate program that specializes in your areas of interest.
Some well-regarded universities include Brown University in the U.S., Durham University in the U.K., Freie Universität Berlin in Germany, and Leiden University in the Netherlands. You can find more universities listed here.
11. Reach Out to Egyptology Faculty
It's always a good idea to reach out to those with more knowledge and experience for advice, and it's the same with Egyptology. If you're looking for guidance, an Egyptology faculty might just serve as a good advisor for you as they will have strong opinions on the subject and will be happy to point you in the right direction. At the very least, they can refer you to a current graduate student who has been in your shoes and can also provide sound advice. When you reach out to an Egyptology faculty, remember to explain your background (undergrad major, books you've read, etc.) well.
You Can Do This!
Egyptology is a competitive field, i.e., there are more Egyptologists than jobs. Most won't get rich being an Egyptologist, but you're not here for the money or you would have chosen a more lucrative profession, such as being a doctor or lawyer.
Still, you'd like to be able to make a meaningful contribution, and to stand out and really make it in this field, it's never too early to start preparing. With these tips, along with hard work and dedication, you'll soon be on your way to becoming a great Egyptologist.