Case study writing can turn into a tedious college assignment if your analytical skills are not top-notch. They require you to investigate a business case or problem and pose the best solution basis your in-depth research findings and critical analysis.
In this article, we will show you how to approach case studies that involve analyzing ethical considerations in marketing practices.
Firstly, what is ethical marketing?
You walk into a brand new beauty store and you're compelled to try out their products because they claim to be "100% natural" or "made with natural ingredients - no side effects".
You fall into the trap only to realize a week after that the brand made false claims because here you are left with side effects.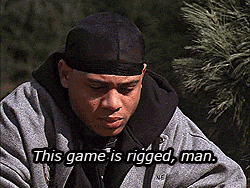 Original: Source

Now, that is an example of unethical marketing.
6 Aspects to Consider while Analyzing Ethics in Marketing, for a Case Study Paper

When you're writing a persuasive case study for college on ethical considerations in marketing, it's important to adhere to a framework and approach the analysis in an organized manner.
To help you achieve that, we have put together six crucial aspects you should look into while analyzing ethics in marketing practices, which are also a part of the American Association of Marketing's core ethical values -
Honesty
For a business to be ethical, it needs to be entirely honest with its customers. That means all the promises and claims it makes (or advertises) needs to be 100% true.
If a brand is making exaggerated or misleading claims that aren't true, they are not abiding by this core value which is bound to create mistrust among customers.
So, while writing the case study, analyze how honest the business is by comparing their advertisements and claims to their customer reviews. For instance, if a beauty brand claims to remove dark spots in three weeks, analyze reviews to understand if their customers feel the same.
Responsibility
In ethical code of conduct, responsibility refers to how much of an onus the brand is willing to take for their decisions or actions.
Is the company focussing on long-term benefits or short-term gains? Does it have an ethical company policy? How responsible is it towards the environment, society or country? Do they have any commitments towards helping certain disadvantaged sections of the society?
Evaluate these questions to analyze whether the brand/company in question is responsible.
It's also important to correlate brands' claims to their actions and base your decision on enough evidence. For example, if a fashion brand claims to be "environmentally conscious" but still uses plastic-based materials, that's a huge red flag and an unethical marketing practice, for you.
Fairness
Practicing fairness means that the seller (brand) respects the buyer's (customer) interests and does not resort to any sort of manipulation or tactics to lure them to make a purchase.
Manipulation can be in the form of misleading marketing communication, price fixing or even disrespecting the customer's privacy.
When it comes to unfair ethical marketing practices, one of the most common examples is when brands advertise a lower price and when customers get to making the purchase, the final price turns out to be a lot higher than advertised.
So, while analyzing the fairness aspect, look for these 'bait and switch' instances along with misleading claims or photography that only aim to lure the customer to make the purchase.
Respect
Almost every company policy states that they are inclusive and respect all sections of the society but how many of them really live up to their claims?
From customers to suppliers and employees - it's important for brands to show respect to every stakeholder they deal with.
A brand can be extremely respectful towards customers but in the backend, if they have a record of cheating traders or suppliers, it does not make them ethical.
So, do background research to understand the kind of reputation the brand enjoys with all its stakeholders. While customer data will be easy to obtain, their attitude towards other stakeholders might need a little more work.
Transparency
Everlane, an American clothing retailer not only claims to be manufacturing and selling ethically, it also provides a cost breakdown of every garment of theirs which includes labor, transportation, taxes, etc.
Now, that's an example of complete transparency practiced by a brand.
So, whether it's accepting criticism or giving open access to customers about what goes behind their brand - transparency is about being authentic and giving customers all the information required to help them make an informed buying decision.
Citizenship
Similar to responsibility, citizenship refers to how committed the brand is towards fulfilling their economic, legal, philanthropic and societal responsibilities.
The most effective way to evaluate this aspect is to read up on the brand's corporate social responsibility (CSR) campaigns along with their outcomes. This information will generally be found on company websites and social media pages.
Don't get swayed by fancy CSR reports.
Here's a good explaining the keys of corporate social responsibility to help you understand what really matters
Conclusion
So, when you are writing your case study for college, you can consider these six crucial aspects while analyzing ethical considerations in marketing practices.
If you still find yourself struggling with the assignment, we at Writers Per Hour would be glad to assist. Our writing experts will do extensive research and deliver original, well-written case studies. Our team of writers are subject-matter experts and can handle a wide range of topics.
So, if you're stuck, don't hesitate to reach out to us for case study writing help!