"The more that you read, the more things you will know. The more that you learn, the more places you'll go."
This famous quote by Dr. Seuss aptly encompasses the value of reading.
An important life skill, reading encourages one to think, develop focus and build a strong vocabulary.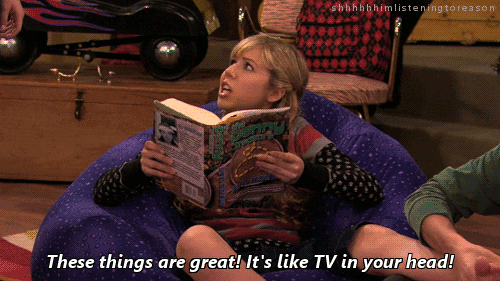 Original: SourceAnother huge benefit of reading is that it helps you write better.
From taking inspiration from authors about writing techniques and learning how to frame your thoughts to using vocabulary to enrich your essays, the fact is that the key to becoming a good writer lies in reading.
In this article, we talk about 10 interesting books college students can add to their reading list.
10 Interesting Books for College Students
The thing about reading is, how much ever we want to be regular at it, that's not always possible. Blame it on college essays, exams, or just life in general — there is always some other task that takes precedence, pushing reading to the back burner.
Well, if you're looking to get back to reading or wondering which book you should read next, we've put together a list of interesting books for college students.
This Side of Paradise by F. Scott Fitzgerald
This book is an absolute must-read for college students as the plot revolves around a privileged Princeton student who becomes disillusioned with life.
He finds out that his life behind the walls of his college and campus is completely different now that he is stepping into the real world, and is now trying to discover himself after graduation.
This is F. Scott Fitzgerald's debut novel and examines the life and the morality of American youth in the aftermath of World War 1.
Norwegian Wood by Haruki Murakami
Norwegian Wood is a fictional novel set in Japan and is based on the life of a college student who reminisces about his life following the death of his only high school friend in the 1600s.
This story is about how true love and friendship have influenced our protagonist and how life will get ugly but he has to keep moving forward by changing, adapting his principles and personality with everything that happens around him.
Focusing on the journey of transformation, Norwegian Wood enlightens its readers about the significance and power of time and teaches them to face and accept the reality of life.
To Kill A Mockingbird by Harper Lee
A novel that is introspective and fearless, To Kill A Mockingbird, is extremely relevant as it brings forth contemporary realities like racism and inequality.
Harper Lee speaks through the journey of his protagonist, a young girl who witnesses her father take an ethical stand for his client, Tom Robinson, one of the town's Black residents who was falsely accused of raping a white woman.
Students must make this a part of their reading list to grow into sensitive and empathetic individuals in a world that needs more unity than disparity.
Paradise Lost by John Milton
As we all know the story of Adam and Eve who fell into the temptations of Lucifer and ate the forbidden fruit from the tree in the Garden of Eden, we have lesser knowledge about Lucifer, the arrogant son of God, and how he tragically fell from grace and was condemned to Hell.
Paradise Lost is an epic poem that is divided into ten books and illustrates the difference between the two sides of good and evil and lets the readers decipher and interpret who is in the right.
It describes the war for heaven and how man, for his sins, was expelled from Eden. This powerful poem addresses rebellion, longing, and the desire for redemption.
The Alchemist by Paulo Coelho
The Alchemist is a beautiful tale written by Paulo Cohelo about the protagonist Santiago, an Andalusian shepherd who is on a journey to Egypt after getting recurring dreams of finding treasures there. This novel is an allegory about a man who is fighting against all odds just to reach his fate, achieve his desires and passion.
A perfect book for college students, The Alchemist teaches us to listen to and follow our hearts, recognize and work towards new opportunities, learn to identify and overcome any hurdles that are on the way, and most importantly to follow our dreams and life goals.
The Last Lecture by Randy Pausch & Jeffery Zaslow
The Last Lecture was written by Randy Pausch and co-authored by Jeffery Zaslow, and is a unique book that is filled with advice, and life-changing words of wisdom.
The Last Lecture is about Randy Pausch, a professor at Carnegie Mellon University, who at 47 got diagnosed with pancreatic cancer, and writes a 'Last Lecture' to his students and readers about living life to the fullest and not giving up on it.
He inspires his readers to live each day with purpose and joy and revolves his stories about dreaming big and how hard work, perseverance, sacrifice, self-confidence, and having a positive perspective to situations can deal with any kind of adversity or challenges.
#GirlBoss by Sophia Amoruso
Sophia Amoruso brings to its readers an inspiring and empowering book that every girl should read.
In this storyline, she relays her humble beginnings as a college dropout who is also a shoplifter. She eventually rises above the ranks, makes it to the top of the fashion industry, and becomes the Girl Boss she aspires to be by working hard, listening to her instincts, knowing which rules to follow and when to break them.
#GirlBoss speaks to all the women in the world who are unconventional and are considered outsiders. She narrates how the path to success is unique for each woman and can be accomplished even if you have naysayers or hurdles.
The Handmaid's Tale by Margaret Atwood
The Handmaid's Tale is a masterpiece based in the dystopian era where women were made to follow strict protocols on what they should wear, where they should go, and the torture they faced. They were made to be subservient to men and were only used as a baby-making machine.
In this plot, the protagonist, Offred, recounts her time as a Handmaid, about how the other handmaids were treated, how the state of Gilead functions, and the patriarchy that has smashed her existence.
In this story, the handmaids hate their role but they never rebel as they are conscious of the consequences that could be fatal, and in order to survive, they need to reach acceptance to push forward.
The book examines the effects of harsh laws on women, who are bereft of their basic reproductive rights. It also focuses on the power dynamic between men and women which reflects a part of our society that we live in today as well.
Eat, Pray, Love by Elizabeth Gilbert
Eat, Pray, Love spoke to its audience like never before.
Author Elizabeth Gilbert writes about the hardship of her marriage and the struggles of her divorce, which pushes her to embark on a year-long journey of self-discovery, by traveling across India, Italy, and Bali where she guides her spirituality with meditation and prayer indulges on delicacies and ethnic foods and finally finds love again.
Elizabeth's journey of falling into happiness and love with herself inspires many to do the same. It is inevitable for life to give you troubles and grievances, but it's on you to work towards bettering yourself, fighting and striving to change your perspective, learning to be happy with your own self and that it's never too late to reinvent a new and beautiful life for your own growth.
Hunger: A Memoir of (My) Body by Roxanne Gay
A brutally honest and movingly told memoir of the writer's perception of the perfect body, Hunger is a must-read.
The prose recounts how a traumatic incident in her childhood makes the writer want to intentionally gain weight in order to escape attention, admiration, and judgment from a world that does not truly accept her.
In a country obsessed with their body image, issues around it, and weight loss plans, this writing is not a feel-good ode to the conventional idea of beauty. Instead, it is an intensely relatable and frequently disturbing tale of how we must diffuse the parameters of the perfect body and learn to love ourselves.
Conclusion
Our list of interesting books for college students consists of classics, as well as contemporary novels. Each of these reads is influential, inspiring and can broaden the creative minds of college students.
So, which one are you going to start with?