Writing an essay isn't easy. Whether you're writing an essay for a college application or assignment, it can get quite tedious to put together a well-written essay that stands out and gets you high grades.
"I've written so many essays in school."
If you think you can apply your high-school essay-writing tips and tricks in college, you're mistaken.
From the time you step into freshman year, you are expected to bring about the change in your habits - whether it's studying, time management, or even writing essays, for that matter.
Don't worry; this article will throw light on some important college essay writing tips that you can keep in mind to deliver a stellar paper.
Follow These 7 College Essay Writing Tips to Score Well
Essays form an important component of your final grades and are certainly not something you can take lightly.
The purpose of writing essays is to push students to develop writing and critical thinking skills while being able to make logical arguments and present their cases effectively.
Here are the top seven college essay writing tips that will help you write a high-scoring paper.
1. Choose a specific topic that interests you
The most important part of essay writing is to find a topic that perfectly fits your interests and knowledge. If you're assigned a topic, then you're good to go, but what happens when you're asked to select a topic of your choice?
Use this as an opportunity to pick a topic you are interested in or passionate about.
When you are trying to find out a topic that interests you and is relevant to you, try to ask yourself what excites you. As you're going to be spending a huge amount of time writing the essay, it rather is something that interests you.
Apart from that, make sure the topic you choose gives you ample scope to do research. If it's too narrow or vague, you'll fall short of sources you can refer to.
2. Plan the essay writing process
An essay is one of the most important assignments you'll have in college - don't wait till the 11th hour to work on it.
There are a lot of steps involved in writing a compelling essay. The last thing you want to do is start working on it a day prior to submission and submit a half-baked essay.
The trick is to plan the essay writing process and work backward from the date of submission. Give yourself quality time to conduct comprehensive research, after which you need to set aside time for writing, editing, and proofreading.
Here's a planner you can use to organize the essay-writing process.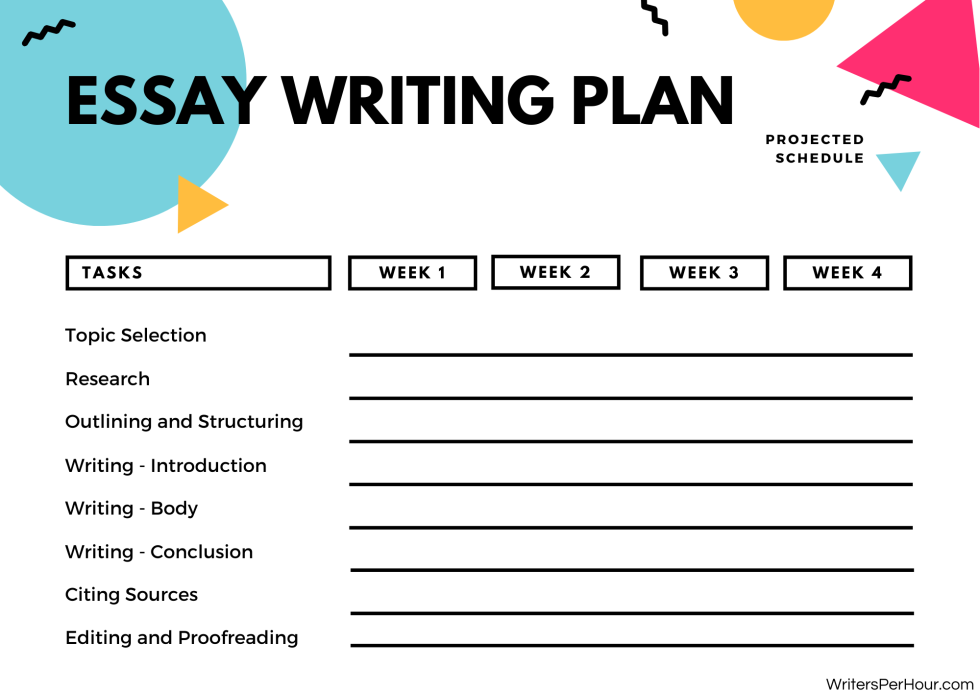 When you plan and start well in advance, you can do a better job and do full justice to it.
3. Use a strong hook
Considering the many essays your professor has to go through, you don't want to submit a run-of-the-mill essay that gets lost in the crowd.
The best way to make an impression and grab attention is by starting your essay with a strong, enticing hook.
Hook refers to the first one or two sentences of your introductory paragraph. Your goal needs to be to reel the reader in and make them want to read the rest of your essay.
You can start your essay with an interesting question related to your topic, a bold statement, a personal story, or even an alarming statistic - these are all useful tactics to start your essay with a bang. When you do so, there are higher chances of scoring well.
As the saying goes, "all that begins well ends well."
4. Share anecdotes
An anecdote is a short personal story used to illustrate a point. Nothing is more engaging than using anecdotes in your essay.
Anecdotes let you build a strong connection with the reader while emphasizing the point you're trying to make.
However, you need to ensure to use them sparingly and wisely. Ensure the anecdote you share is short, descriptive, and, most importantly, relevant. You want the anecdote to add value to your writing and not distract the reader.
5. Use humor appropriately
College essay writing is a serious business but that does not mean you cannot inject humor.
While this isn't the place for 'ROFL jokes,' a subtle humorous take won't hurt your essay. It lightens the mood, makes for a fun read, and showcases your personality.
The key to making humor work for you is using it sparingly and ensuring it has a connection with the point you're trying to make. You can use it to ease tension after making a point about a grave topic or add it to highlight an argument you're making.
6. Stay away from clichés

'Survival of the fittest,' 'Jack of all trades, master of none,' 'In the current climate', 'Little did I know,' ..and the list goes on.
These are what clichés are made of and are a complete no-no while you're writing college essays - or anything for that matter.
If there's something that makes professors go, "oh, not again," it's clichés. They are so done and dusted that they tend to make your writing boring and less appealing. Not just that, but they also reflect poorly on your creative writing skills.
So, think of different ways to convey the same idea in a more interesting manner. Ask questions, dwell on it a little longer, and frame it differently.
7. Proofread More than Once
You has worked hard to write your essay, and maybe a bit relieved that it's complete but remember, your essay is as good as your editing. So, don't think your work is done yet.
Don't write and edit on the same day. Let your essay sit for a while and give your eyes some rest. Come back the next day with a fresh perspective. This way, your mind will have a chance to focus on the actual words rather than what you think you wrote.
While proofreading, keep your eyes open for spelling and grammatical errors, sentence formation, logical flow, consistency in tenses, proper citation, and other silly essay writing mistakes.
Another smart way to proofread is to read out aloud. This is a great way to figure out the flow of your writing and spot typos with ease.
It's also a good idea to have another person read your essay - be it family, a friend, teacher. Sometimes we tend to develop blind spots when it comes to assessing our own writing. So, it helps to get a different perspective.
Conclusion
There you go - writing an essay might sound challenging, but when you follow these essential tips, it certainly gets better. The key to writing a good essay is to have fun and not look at it as a burden.
Use this assignment to learn and read more, hone your writing skills and enjoy the process. When you have a good time, you're likely to come out more enriched and also do a better job at it.
However, there are instances when you're pressed for time or juggling too many assignments at once. At such times, it's always advisable to get professional help from essay-writing experts.
We at Writers Per Hour can come to your rescue and help you submit an original, custom-written essay. From choosing the topic and doing research to writing and citing sources - our writers are happy to take care of the entire process.

Last edit at Jul 27 2023